Auberge Le Vieux Prespetere Inn - Buctouche, NB
Website: www.vieuxpresbytere.nb.ca
This system is designed to supply domestic hot water and excess heat will be diverted to space heating.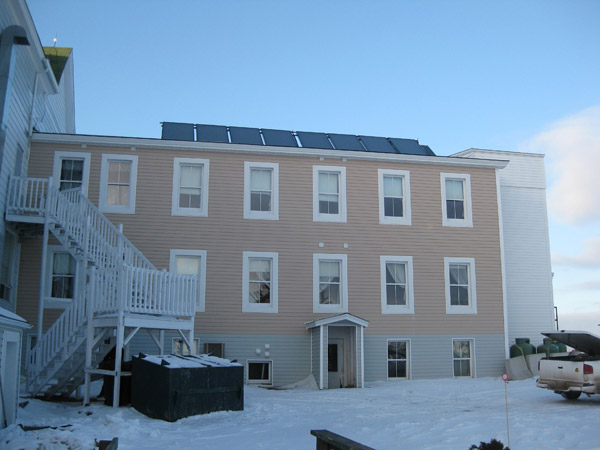 8 4x8 collectors mounted on roof of building.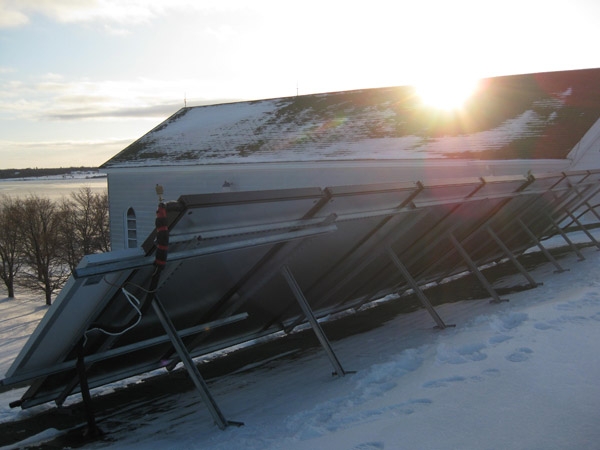 View of collectors from behind.
To Whom it may concern:

Mr. Woody Thompson [Fundy Solar, Jolicure NB] installed and activated a solar hot-water heating system for our 16 room inn in November 2010.

The system is based on eight 4x8 collectors, a heat exchanger [powered by our solar PV modules], and two 120 gallon storage tanks connected to the existing electrical water heater.

The system is working very well. We were particularly pleased with the time taken to adapt the system to our needs and to the attention paid to after-sale service in the start-up phase. All has worked well ever since.

Sincerely,
Raymond Drennan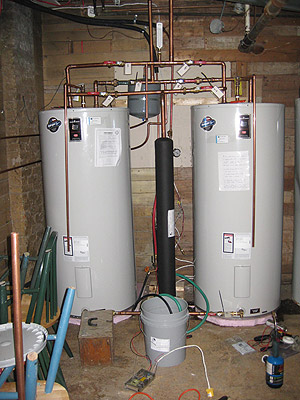 Utility room, solar storage tanks during charging. The large black object between the tanks is a heat exchanger. All ball valves are labeled with a legend taped to the side of the tank.
---
Installed Systems