Ross Mount Hotel
Website: www.rossmountinn.com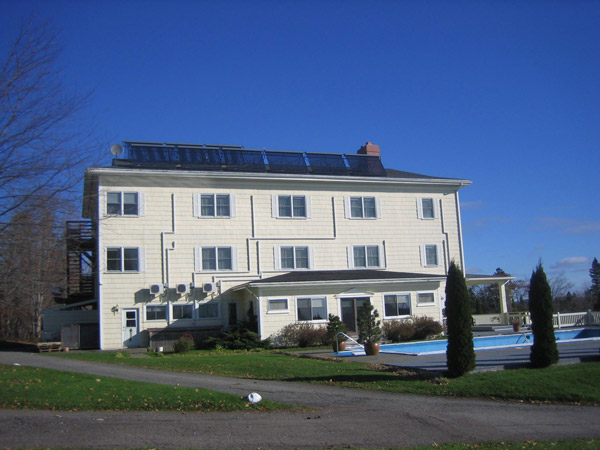 The Ross Mount Hotel is an 18-room hotel located near St Andrews. Hot water is consumed in the rooms as well as in the busy kitchen that serves a busy restaurant, and they wash all their own linen. Prior to the fall of 2010 their hot water needs were met with two sixty-gallon oil-fired water heaters. Approximate fuel consumption was 2,272 gallons per year at a cost of nearly $7000.00 The projected solar output will displace 2000 gallons of oil per year and save the client $6200.00 per year in domestic water heating costs.
This system consists of 9 EOS-30 collectors plumbed in three parallel series of three. The storage consists of 4 120-gallon indirect fired tanks.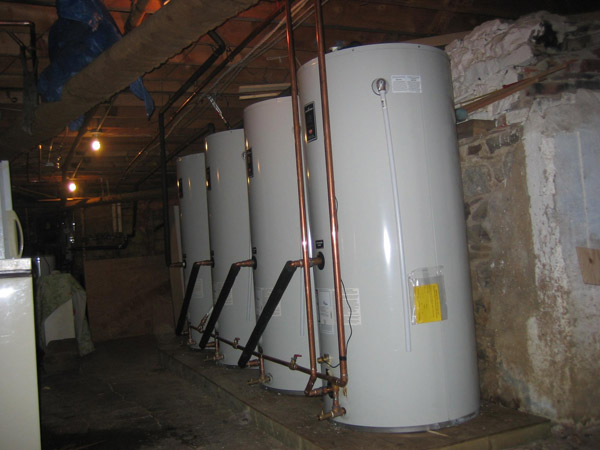 Equally important to gathering thermal energy is to accommodate excess energy in a useful way. In this case much of the hotel is closed through the winter, but the rooms are kept at about 15 degrees celcius and the office is used all winter. Since little domestic water is used during the winter, there will be lots of excess energy available during the winter, especially during February and after. All the excess energy in this system is directed to a fan-coil unit mounted under the office. Air is pulled from the bar, heated, and blown into the office through a floor register.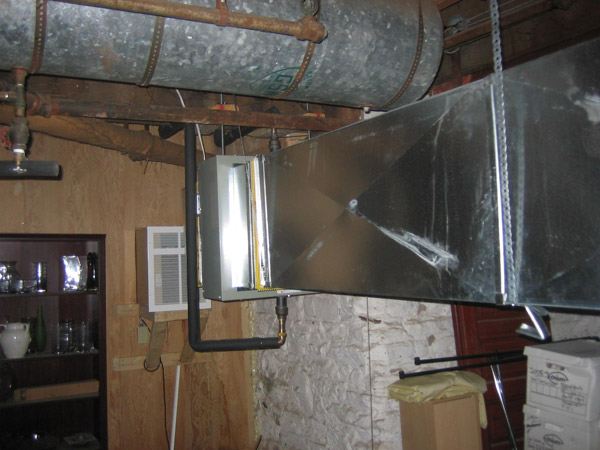 Pictured above, the Fan-Coil unit with ducting between the office and bar.
In the summer time, excess heat is directed to the pool through a stainless steel heat exchanger.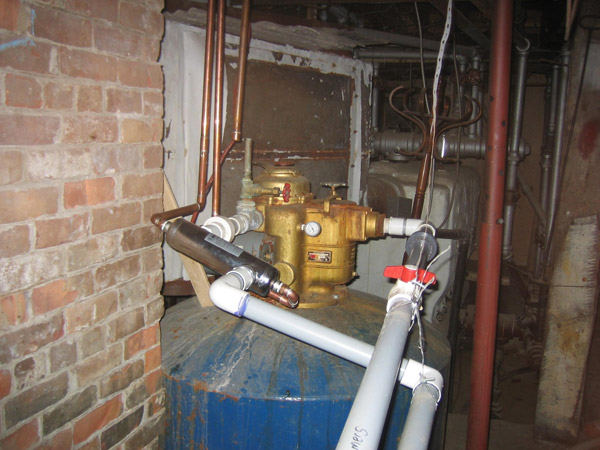 Pictured above: The pool filter and pump, and the stainless steel heat exchanger.
So far the system is operating as expected:
December 23 2010

Today at 12:15 your air exchanger kicked in. I checked the temperature and it was 58 degrees on the roof, the outflow from the tanks was 40. Ambient air in the hotel was 20 degrees?air at the outflow from the heater is 25. That is on one of the slowest days (in December), I can imagine what the system will do in January and February...
January 6 2011

...we have 30 degree air coming out of the heater today. The heater started at 11:30 am and the office (where the register for the heater is coming out) is very warm. We might have to look at putting the heat somewhere else until we finish repairing the pool later this year.
Chris Aerni
Owner Ross Mount Hotel
---
Installed Systems